Baby jewelry – special gifts for babies
Having a baby is a really special event and you can make it more special with baby jewelry made just for them. Here we offer some special gifts for your little baby that will last forever.
It is a good idea to keep all precious trinkets and baby jewelry safe in a lavish jewelry box fit for a queen. There is a perfect jewelry box for every girl.
The songmics musical jewelry box ballerina jewel storage case for girls is decorated with sweet ball princess, magic castle and pretty flowers pattern. This beautiful pink musical jewelry box is perfect for little girls. Simply open the lid of the ballerina music box, and wind up the clockwork mechanism at the back of the box to reveal a delicate ballerina figurine dancing to the melodious "Brahms Lullaby" tune. Music will stop automatically when you shut the lid.

---
The jewelry box will fit many pieces of jewelry including earrings, bracelets, rings, hair clips and necklaces. Mirror is made from ABS plastic instead of glass because is safer for children and unbreakable.
---
Baby Brush and Comb Crown Icon with White Crystal Silver Plated Lacquer Finish
The engravable luxurious silver-plated baby's brush and comb set is a perfect baby gift. The lacquer finish ensures it won't tarnish. 
This personalized silvertone set features a soft-bristle brush and comb in a classic cream finish, with the brush measuring 5.75 inches long and the comb 4.85 inches long.
You can engrave each piece with a name, initials or a special message. 
It is made from zinc alloy and plastic, the brush features soft bristles to feel good against the scalp and the comb has plastic cream teeth.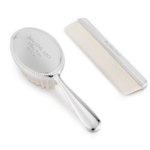 ---
Personalized gold baby bracelet engraved name baby 
A bracelet is the perfect gift for babies, boys and girls. You can engrave your baby's name in the bracelet to make it more personal. The bracelet also includes a gift box.

---
Baby Girls Earrings
This baby girls earrings are classic and minimalist.
The flat covered screw backs are a safety back that screws on and locks thus preventing for any poking in the back of the earlobe and lessening chances of lost earrings and lessening chances of lost earrings.

---
Necklace baby jewelry gift 
It is obvious that you can not buy as much baby jewelry for a boy as for a girl. But there are also options to buy beautiful jewelry for them.

This necklace is  laser engraved on stainless steel dog tag, it is lead-free and nickel-free. The double rings design charm pendant allows you to wear it with chain, keychain, school bag or handbag easily.
The package includes: 1pcs Pendant+1pcs Chain+ 1pcs Keyring,