The arrival of a baby is a special moment for a mom and she will want a special present to remember it. A mom jewelry made for this special moment will be the perfect gift for her.
There are some beautiful ideas that you can buy to make her remember this great moment. Here we offer some of this ideas.
Infinity collection mom jewelry bracelet
This gorgeous bracelet is the perfect gift for moms. because it  represents infinitive love .
This bracelet is hand made with silver plated materials. To extend the life of your custom pieces, remove your jewelry when showering. Also remove it when putting on lotions or perfumes or when swimming. To clean it you should use a cotton swab or soft cloth. You can also use a mild soap and some warm water but be sure to rinse well and then pat dry. Always be sure your jewelry is dry before putting in storage. You can polish with a soft cloth or chamois as they can tarnish or have water spots if not dried well.

---
Baby footprint personalized sterling silver name necklace
This personalized mom jewlery is engraved with solid baby feet and it can be customized with the name and date of your child. It includes a 1 inch diameter round charm. The charm can be customized with the newborn's name and birthdate or any words of your choice.
This charm is customized and paired with solid baby feet impression. It is adorned with a Swarovski Crystal Pearl and a 925 puffy heart charm. 
It is made using only the finest quality material such as sterling silver.
The personalized necklace is the perfect gift for mothers with a newborn.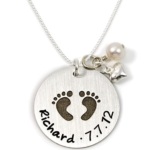 ---
Angel Caller Bell Hearts
Harmony ball is a lovely piece of jewelry originating from Bali, Indonesia. It is essentially a chime pendant, as the pendant emits a soft but just audible chime sound with movement. Moreover, it brings calm and relaxing to the wearer.
Traditionally, harmony ball had used in Bali and Mexico, pregnant woman wear it on a long necklace during their pregnancy. The harmony ball hangs low by the abdomen, as the mother moves. Besides, the soft chiming sound is said to soothe the unborn baby and can even have calming benefits for the mother to be.