Wether your baby has or no hair you have to take care of his hair. Depending of the type of hair you will have to take care of it in a different way.
If your baby has no hair use shampoo twice a week to avoid cradle cap, oily, flaky patches of skin on the scalp. A good idea is use hats to protect baby's head from the sun.
If your baby has thin and wispy hair comb gently and trim wisps that fall into baby's eyes or ears.
With a baby with thick curly and very dry hair slather on a conditioner or baby oil after shampoo once a week. Comb the hair gently from roots to scalp before rinsing conditioner out.
If you have a baby with thick and straight hair it is convenient to do frequent haircuts or even shave thick hair so it comes in healthier. Use a very soft brush to keep hair smooth and shiny. Bangs will keep you from having to hold long hair back.
Complete baby hair care system
This shampoo and conditioner combo set smooths, softens and strengthens with safe but powerful moisturizing ingredients. It is sulfate and paraben free and integrates organic ingredients whenever possible. It is ideal for curly, thin or thick hair types.

---
Chargeable Professional Cordless Hair Clipper for Baby
This baby hair clipper has very low working noise which is less than 45db, making the babies no fear to the hair-cut, and it will not wake babies up even when they are sleeping.
The sharp and clean ceramic blade is designed for 0-12 years old baby, with 0.5mm gap to the skin offers full protection to avoid getting hurt.
PX7 waterproof grade, boasts of the strengthened water-proof treatment, whole body washable. Thus easier to tidy up the broken hairs.
Adopt high-capacity and durable Li-Po rechargeable battery, USB portable charging, can be charged by desktop, laptop, portable source, etc.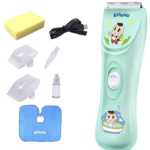 ---
Calming Clipper Haircutting Kit for Sensory Sensitivity
For sensitive kids, buzzing clippers are too much to handle and a visit to the barbershop can end in a meltdown.
This is a quiet and gentle alternative to electric clippers that anyone can use at home.
The professional stainless-steel scissors have a serrated blade that includes 7 comb lengths from 1/2″ to 1″. It also includes a barber cape.

---
Hair complements
Finally, there are beautiful accessories that will make your baby look even more precious.