Bedside Bassinet – Ingenuity Dream & Grow Bedside Bassinet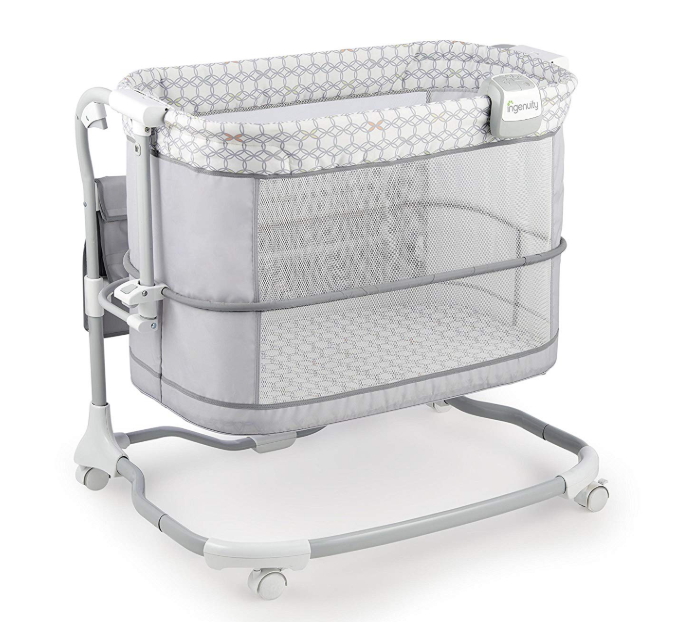 The ingenuity dream and grow bedside bassinet is very spacious. This bedside bassinet is deep so if your baby awakes parent do not have to worry about him being able to crawl over it.
This is a portable bassinet that can roll into any room while the child is asleep or awake.
With this beautiful bassinet you can keep your baby close and comfortable. It can be placed right at your bedside to hold your baby safely within reach. The height adjusts to accommodate the height of parent's bed, that makes it easier to care for your baby, even in the middle of the night.
The dream and grow bedside bassinet features open mesh sides to allow more breathable comfort and visibility.
You can move the mattress down to create a more spacious sleep environment for your growing baby when it's time to move him to the nursery.
It includes soothing sounds to help your baby fall and stay asleep. Besides, it also includes a soft night light to check on baby. The light is attached on the side but can be moved to any area you would like for your easy access. Lullabies for baby, night light for parents. Sounds soothe your baby and gentle lights help with nighttime checks.
Also, another benefit is the storage pockets which are great for storing diapers, wipes, lotions as well as any creams, medications or other necessities you might need.
This smart design is versatile enough for your baby's use for up to a year because it converts into a crib alternative. Also, the style is very neutral so is perfect for boys and girls as well for any color room.
Product dimensions
Dimensions: 68.6 x 104.1 x 87.4 cm
Weight: 27 pounds
Product care
Bassinet Sheet: Machine wash in cold water. Air dry flat
Mattress: Remove structural boards. Fasten all hook-and-loop tabs. Machine wash in cold water. Air dry flat.
Bassinet: Spot clean with a soft, clean cloth and mild soap.
Rating
Cleaning
Easy to clean. The fabric parts and mattress are easy to remove for washing. It can be machine washed in cold water.
Portability
It includes caster wheels to easy roll the bassinet to every room of your house .
Safety
It is deep to avoid baby being able to climb. In addition, the mesh sides provide more air flow to create a safe and comfortable space for napping or sleeping.