Baby bassinet attaches to bed – Babybay Bedside co-sleep
Babybay bedside baby bassinet attaches to bed securely. It is the only one that fixes using fully height adjustable metal clamps. It has an adjustable base that matches perfectly with parent's bed and ensures both mattresses are flush. Removal is also easy when you need to use it as a bassinet during the day.
This baby bassinet allows parents co-sleeping with their baby without any of the associates risks because it fixes securely to bed and provides a separate sleeping area for your newborn. The babybay bedside bassinet that attaches to bed will ensure a better night sleep to you and your baby during the first months of your little one.
A very convenient solution, your baby will sleep comfortable and secure in his own space while you can soothe him easily without having to get out of bed. Baby can be gently roll into your arms and roll back into his bed to make night feeds easier. It is also very useful when mothers are recovering after a cesarean section because they don't need to leave their bed to tend their baby.
This baby bassinet is a modular system that can be used to co-sleep with your baby and allows adding easily a side-rail to turn into a stand-alone cot.
It is the perfect co-sleeper for newborn babies up to 6 to 9 months age or until children can kneel, stand or pull themselves.
The babybay is made from solid bench that has antistatic and antibacterial properties.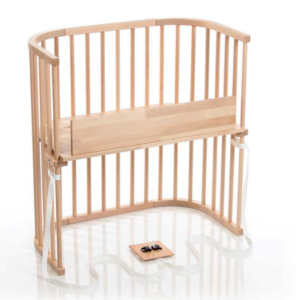 Included
Mattress: ensure is fully aired before use.
Side rail
Dimensions
Dimensions: 86 (L) x 43 (W) x 79 (H) cm
Weight of cot: 22 kg
Mattress: 81 x 42 cm
Side Rail: 86 (L) x 3 (W) x 27.5 (H) cm
Maximum mattress height: 53cm from floor
Materials
Varnished beech finish
Mattress: Coco mattress with a bamboo cover
Product care
You can cleaned the co sleeper with a damp cloth and an appropriate detergent as necessary.
Mattress core classic and baby nest are hand washable up to 30 degrees. You should be sure that mattress dries properly.
The mattress made of coconut fibers is not washable.
Assembly
Easy to assemble, it can be ready to use within five minutes
Rating

Co-sleep
This is a really good co-sleeper, it allows to have your baby next to you. Parents can soothe and feed their baby without getting out of bed.
It is the best option to have your baby close but in his own space.
Cleaning
It is very easy to clean, you can clean it only with a damp cloth.

Design
This co-sleeper has classic styling and a robust construction that assures long-lasting durability.

Safety
Bedside co-sleeping is the safe alternative to bed-sharing. The babybay bassinet attaches securely to parents bed and gives babies their own sleeping area while being close to their parents.
It comes with adjustable clamps which ensure that the bedside cot can't move away from parents bed and remains secure.
Moreover, the elastic coconut fibers provide ventilation to your baby.

Portability
It has detachable castors optional to easy move the bassinet from one place to another when using the babybay as a stand alone bassinet with the side-rail.