The babybay bedside sleeper is a innovative co sleeper crib that securely attaches to parents' bed. It allows a safe way to co-sleep with your baby while assuring his or her own space. It is safe because it goes right up against the bed and fits securely with any bed height due its fully height adjustable sleeping platform.
This bedside sleeper has a design that allows transforming the bedside sleeper into a portable bassinet using a roller kit. It can also be converted into a standalone crib with a conversion kit.
It is solidly built, the eco-friendly beech wood construction means that your bedside sleeper is strong, sustainable, durable, and made to last. The locally-sourced beech wood offers antibacterial and antistatic protection. Besides, all high quality water-based finishes are non-toxic to promote a healthy sleep environment.
Moreover, the co-sleeping platform is wide and big enough for twins.
The babybay comes with a barrier that goes in between baby and your bed. The barrier is removable and using the bedside sleeper without the barrier is completely safe.
On the other hand, the bedside sleeper can be converted with an extra conversion kit into a children's highchair. You can also transform it into a spacious cot. The conversion kits allow to use this bedside sleeper while your baby grows up.
It is available in different colors:
Babybay bedside sleeper – pure white finish
The pure white finish is the brightest babybay model. As well it radiates a sense of positivity, purity and reflection.
Babybay bedside sleeper -light gloss beechwood
The light gloss beech wood model is simple and unfussy. It has a clear, non-toxic varnish for added protection against stains and moisture.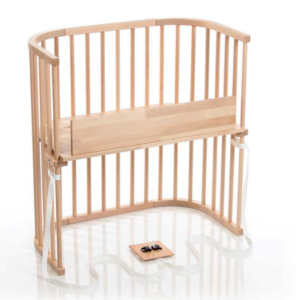 Babybay bedside sleeper – deep walnut stained
The stained version is a rich and deep color that evocates walnut. Indeed the color is made to be soothing.
Included
Guard Rail and Mattress, and all accessories not included.
Dimensions
Co-sleeper Dimensions: 36 in long, 20 in deep, 37 in tall

Co-sleeper weight: 32 lbs.

Bedside co-sleeping platform: 35 in x 20 in.
Materials
Sustainable, locally-sourced beech wood.
High quality water-based finishes.
Product care
You can clean the babybay bedside sleeper with a damp cloth and an appropriate detergent as necessary.
 Assembly
The babybay bedside sleeper is very easy to assemble. In fact, you can assemble it in less than 15 minutes.
Rating

Co-sleep
This is one of the best co-sleepers because it allows parents to have their baby next to them but in his own space.
Besides, with the babybay bedside sleeper parents can nurse their baby while they are still in bed. Parents can soohte or feed their baby multiple times during the night without getting out of bed. For this reason it is a perfect bassinet to sleep better at night.
Cleaning
It is very easy to clean because, you can clean it only with a damp cloth.

Design
This co-sleeper has classic styling and a robust construction that assures long-lasting durability. There are different colors to fit different styles of rooms.

Safety
The bedside cosleeper is the safest alternative to bed-sharing. The babybay bassinet attaches securely to parents bed and gives babies their own sleeping area while being close to their parents.

Portability
It has a lockable roller kit (sold separately) the bedside sleeper can be taken to any room.