Halo bassinets complements
Halo bassinets are the only ones that swivels and let you bring your baby to you for close and safe sleep.
With the halo bassinest swivel newborns can sleep close to parents, even right next to their mother in bed but in their own separate space.
The halo bassinet features a 360º swivel that brings your baby as close as parents need, all the smart features make tending your baby in bed very easy.
There are four models:
Appart from buying the bassinet there are a few complements you may need to have all ready for your newborn.
Here we offer all the halo bassinets complements you can buy:
Mattress pad for halo bassinets
The halo bassinets swivel sleeper mattress pad is made of 100% polyester and it is waterproof. Three layers of 100% polyester material protects mattress from leaks.
Besides, it has a hourglass shape that fits on the bassinet swivel.
This mattress pad is machine washable. You should machine wash warm and line dry.
---
Fitted sheet
The HALO Bassinets Swivel Sleeper's custom mattress should be covered with one of this custom bassinet sheets. The sheet perfectly fits the hourglass-shaped mattress and features an envelope design that avoids to come lose during use because it assures a secure fit.
Halo bassinet swivel sleeper fitted sheets are 100% cotton. Besides, they are machine washables.
You can find different color options and a fitted sheet 100% organic cotton.
This organic cotton fitted sheet is made from 100% certified organically grown cotton that is free of dyes, softeners and finishes.
---
Storage
The Bassinets Storage Caddy easily attaches to the side of the Bassinets Swivel Sleeper. It features an elegant design that coordinates with all halo bassinets. Besides, it is very useful to hold all of baby's nighttime necessities as baby's bottle, diapers, wipes and more.
We recommend to remove it when baby begins to push up on hands and knees.

---
Mobile
Halo bassinets can be adorned with this mobile with colorfull plush and soft toys to encorauge eye tracking at an early age of your baby.
This mobile includes a sturdy clamp that attaches securely and easily to halo bassinet.
Fabric sleeve covers the plastic upright arm.
As the previous storage, the mobile should be removed when baby begins to push up on hands and knees.

---
Newborn Cuddle
The halo newborn cuddle fits snugly around baby's body. It offers a soothing comfort for a better night's sleep. This newborn cuddle is not a baby hammock.
The halo newborn cuddle features a firm and flat sleep surface to ensure a safe sleep. The sturdy hooks let attach the cuddle easily and securely to the bassinet.
Besides, it is made with breathable mesh fabric to ensures a good airflow and let your baby sleep comfortable.
You should not use it when baby begins to roll over.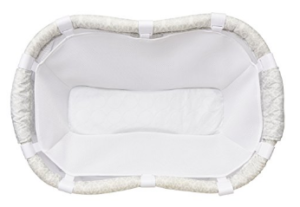 ---
As you can see, with all these useful and beautiful complements your halo bassinet would be the better and safer place to sleep for your baby.