Baby sunglasses – choosing the best sunglasses for your little one
When summer is near it means that your baby will be in the sun for many hours. For this reason it is important to look for a good baby sunglasses.
To keep your baby safe, it is important to protect him with appropriate sunglasses, since exposure to UV rays can cause long-term eye damage. The baby's eyes are not as equipped to block the sun's rays as the eyes of adults. For this reason, you should take care of your baby's eyes by protecting them with appropriate sunglasses.
There are many types of baby sunglasses, not all are the same, so you should make sure you get the right sunglasses. Choose glasses that block 100% of UVA and UVB rays. Try to choose sunglasses designed to protect the eyes of young children.
The sun's rays are strongest at 10 a.m. at 2 p.m., so we recommend that your baby play indoors during those hours if possible. If you have to leave, keep your baby in the shade as much as possible.
My first baby sunglasses – Aviators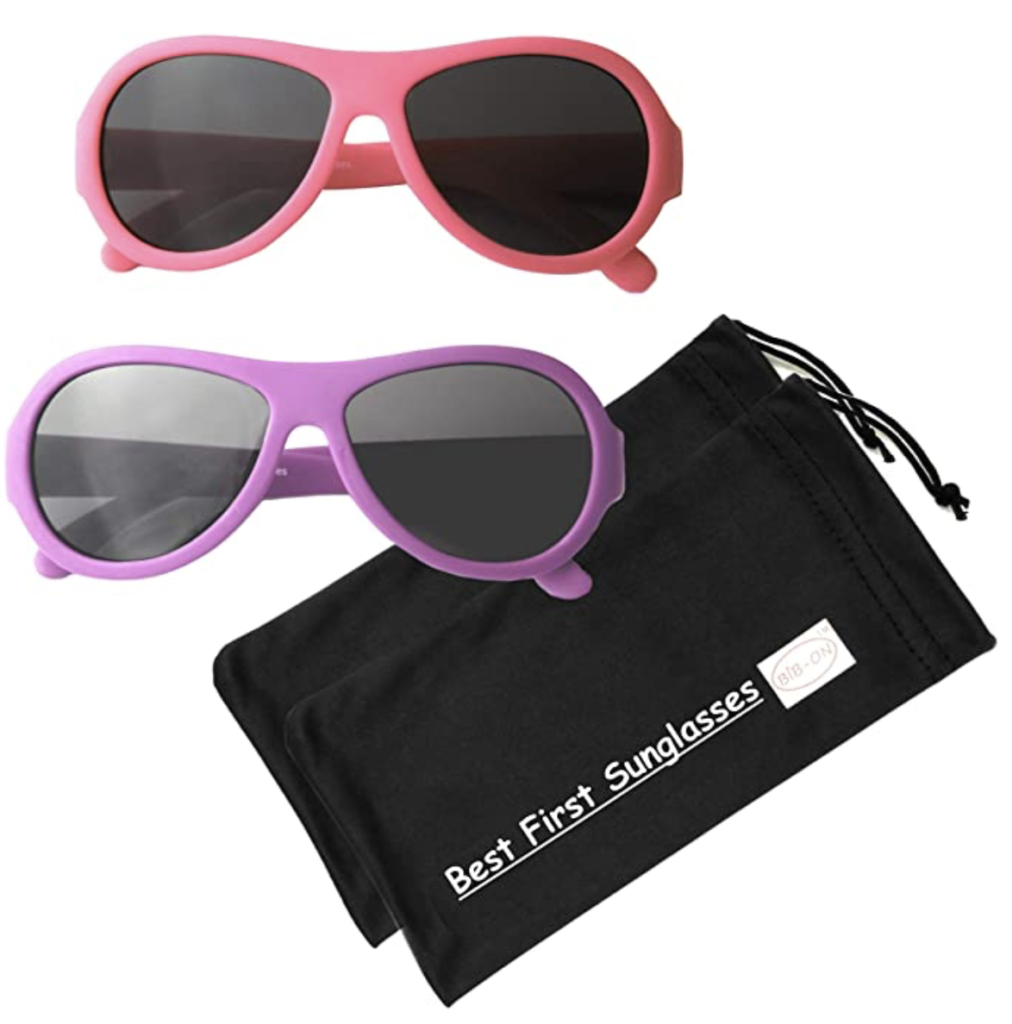 The aviator style sunglasses provide 100% protection from sun's damaging rays. There are different sizes and styles.
They are made with super flexible plastic and silicone technology.
The lenses are composite, safe, and impact resistant that provide 100% UV protection. The TAC polarized lenses are the most durable and glare-free; however, the standard lenses also provide high clarity vision, protection from harmful UV rays, and necessary shades so you can see better on a sunny day.
There are different types of sunglasses for each age:
Baby Aviator (110mm) : 0-2 Years
Lil' Aviator (120mm) : 2-4 Years
Flyboy (125mm) : 5-10 Years
ACE (135mm) : Small to Average Width Adult
Top Gun (140mm) : Average to Wide Width Adult

---
Tuga baby and toddler UV400 sunglasses
Tuga sunglasses are FDA approved for blocking UVA and UVB rays. This sunglasses offer protection against harmful UV rays. They are perfect when in bright sun and highly reflective environments such as beach or snow.
They include a soft adjustable neoprene strap that keeps sunglasses in place and makes them comfortable and easy to wear.
The tuga sunglasses are fashionable but also functional.
The small strap is perfect for babies and up to 2 years while the large band is recommended for 2-5 years. Simply change straps as they grow.

---
Babiators unisex baby sunglasses
Babyators sunglasses are designed especially for kids. They are made our of soft and flexible material that is comfortable for babies. They are lightweight and doesn't pinch the nose and ear when wearing. Frames won't break if you bend or twist them. Besides, the lenses are also impact and shatter resistant and they offer a 100% UV protection from harmful sun rays.