Pacifiers – pros and cons and types of pacifiers
Pacifiers can be very helpful to soothe babies. Some infants can be soothed with rocking and are content to suck only during feedings. Some babies want to suck after feeding even when they are not hungry, in this cases a pacifier may be useful.
There is another benefit when babies use a pacifier. Studies have shown that babies who use pacifiers at bedtime have lower risk of SIDS.
On the other hand, there are disadvantages because the use of a pacifier can increase the risk of middle ear infections.
Many parent don't want to introduce a pacifier because sucking on a pacifier can easily become a habit. Many parents avoid using it because they don't want to deal with having to take it away later.
If you allow your child to use a pacifier but want to avoid problems taking it away, do it when baby reaches his first birthday. In addition, being careful not to overuse the pacifier can help make sure your child doesn't become dependent on it.
It is important to let baby decide if he or she uses a pacifier, don't force your baby to use it. Offer the pacifier between feeding and avoid using it to delay feedings or as a substitute of your attention. If pacifier falls out of baby's mouth while he is sleeping don't put it back.
Attach the pacifier to clothes with a special clip instead of tying it around your baby's neck or to the bassinet to avoid baby be strangled with the cord.
Take care of the pacifier and clean it rising it with warm water. You must replace it as soon as it shows signs of wear or small cracks. Don't clean the pacifier with your mouth because adult saliva contains bacteria.
It is not recommendable to use a pacifier if your baby is having problems gaining weight. It is also not good to use it when your baby has repeated ear infections.
Finally, it is important to not use a pacifier longer because. The longer your child uses a pacifier, the greater the chance it will affect dental development. If you ever become concerned about this, ask your child's doctor or dentist to make sure your child's jaw and teeth are doing fine.
Different types of pacifiers
Once you have decided to buy a pacifier to your baby, you will have to take the decision of which one to buy. There are many types of pacifiers, the best ones for newborns are not going to be the same ones that are right for older children with teeth. Materials are going to be different as well. Besides, pacifiers come in different sizes.
Orthodontic baby pacifiers
Nipples flat at the bottom and round at the top. During sucking, these types of pacifiers flatten in baby's mouth, which provides the most natural sucking action and reduces pressure on developing teeth.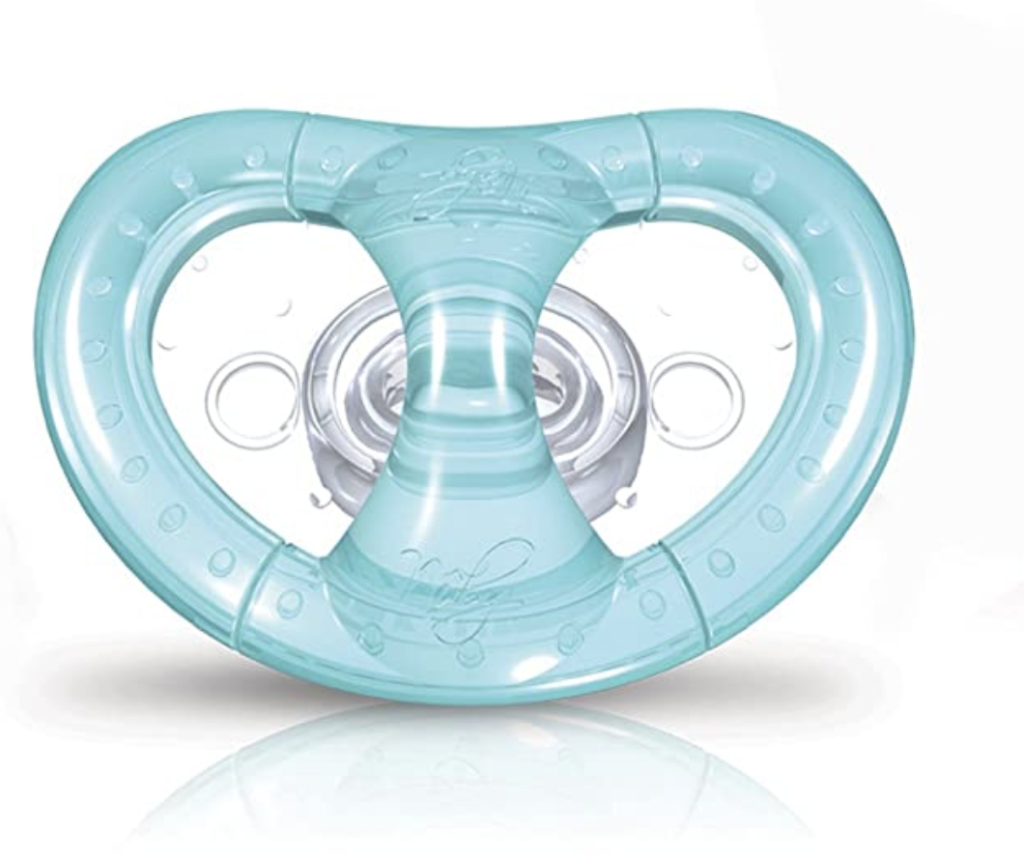 The 2 pack nubby natural touch soft flex orthodontic pacifier is the perfect pacifier for babies between 0 and 6 months. It features a natural flexing action that imitates the motion of mother's nipple during feeding.
The hygienic air system helps reduce skin irritation and the teething nubs help massage and stimulate baby's gums. In addition, it is BPA free and it is available in different colors: green/aqua, pink/purple or blue/red.

---
Round-tip baby pacifiers
This type of pacifiers are more traditional. The round shape is supposed to mimic the form of an actual nipple, which is why these types of pacifiers are often suggested for breastfed babies in order to prevent nipple confusion.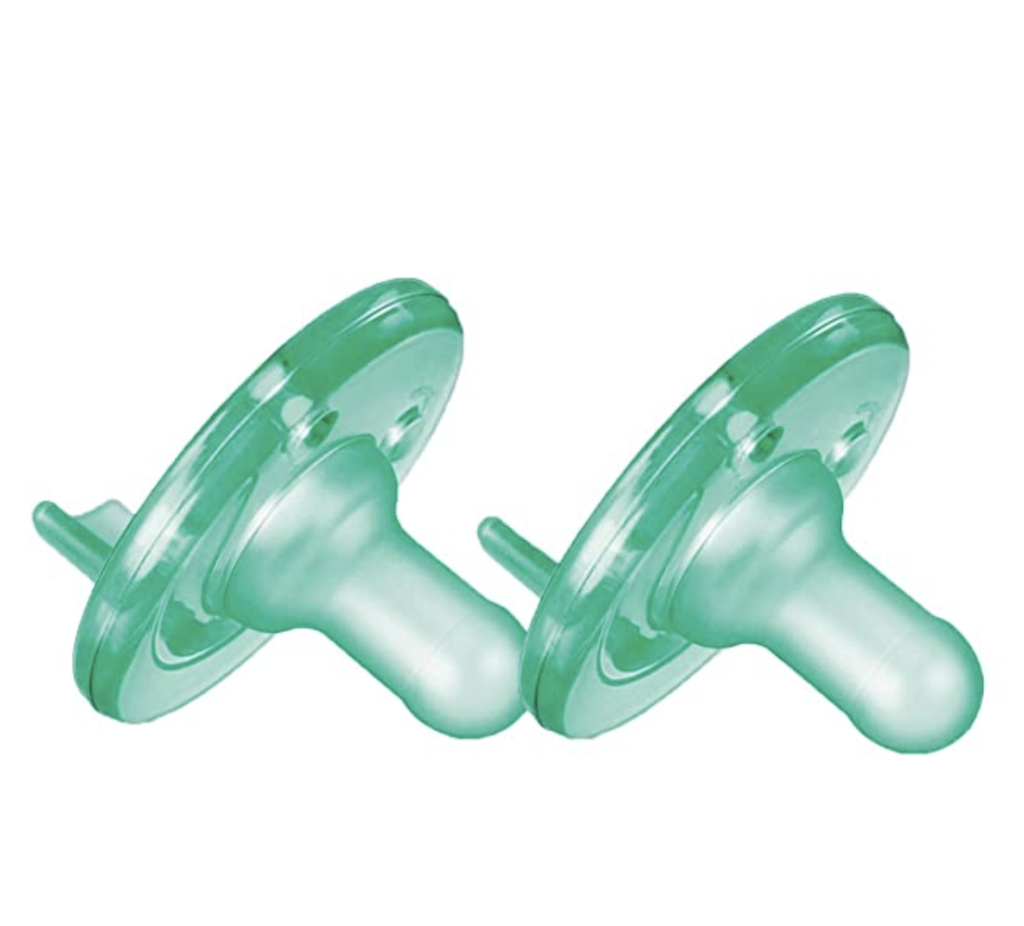 The Philips Avent Soothiehas a unique shape that comfortably fits newborn mouths without inhibiting normal development.
For durability and long-lasting comfort, this pacifier is made of hospital-grade silicone without any detectable taste or odor, making it more likely to be accepted by your baby.
The nipple is strong and smooth and resists becoming sticky, discolored or misshapen. It is also BPA-free and late free and perfect for babies between 0 to 3 months.
This pacifier is easy to sterilize. To sterilize, put pacifiers in a Philips Avent steam sterilize or boil for five minutes. Philips Avent pacifiers and their Snap-on hygienic caps are also dishwasher safe.

---
Silicone baby pacifiers
Silicone pacifiers are sturdier, easier to clean and more widely available.

The chicco soft silicone orthodontic pacifier offers an extra soft and breast-like feel for babies between  0 and 12 months plus. With this one-piece construction and ergonomic shield, babies won't be likely to reject it.
The tiny ridges, grooves and angled shape on the nipple allows for the natural positioning and movement of the tongue. The nipple shape design, evenly distribute the tongue's pressure against the palate. A narrow base allows for extra flexibility and optimal closure of the mouth.
The ergonomic shield is soft and curved and has ventilation holes for air circulation to help prevent skin irritation due to the gathering of saliva.
Every pair of natural fit soft silicone orthodontic pacifiers comes in a sterilizable case for storage.

---
Latex baby pacifiers
They tend to be softer and more flexible, but the softness of the material also means there's a potential for an older child with teeth to inadvertently bite off a piece of the nipple. If there's a chance your little one might have a latex allergy, the best option is a silicone pacifier.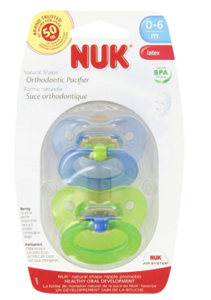 ---
Juicy Pacifiers with classic puller and bright vivid colors with no design.
NUK Orthodontic shape nipple soothes and calms baby better than our original nipple and its asymmetrical shape helps promote healthy oral development by naturally fitting into your baby's palate.
Scoop nipple cavity allows maximum tongue movement, which gently exercises your baby's tongue, palate and jaw and promotes proper teeth alignment by helping your baby avoid thumb sucking.
Heart shaped shield fits perfectly under baby's nose for easy breathing and less irritation.
This latex baby pacifier is BPA free with latex orthodontic nipple.


---
One-piece baby pacifiers:
This type of pacifiers are made out of a single molded piece of plastic, silicone or latex. The single-piece design minimizes the risk of choking, since the pacifier can't easily come apart.
The Molar Muncher is a hand- free tether that soothes the entire gum line simultaneously. The Molar Muncher is refrigerator and dishwasher safe. Recommended by pediatricians and pediatric dentists.

---
Multiple-piece baby pacifiers:
These  are the most common types of pacifiers. These usually consist of a nipple, a guard and a ring, and each of the components is manufactured separately before being combined into the traditional pacifier shape.
Soothe your little fan with officially licensed. These orthodontic pacifiers feature a silicone nipple and plastic shield. The team logo is adorned on the "button" with team colors decorating the shield. All items have been quality and safety tested to be 100% BPA free.

---
Pacifier for teething molars
Traditional teething rings only provide relief to localized areas of baby's gums and often can't reach far enough back to soothe those oh-so-painful molars.

It is both a pacifier fruit holder, and teething toy. It can store fresh or frozen fruits, vegetables, ice chips, breast milk, and even medicine, and can also soothe baby's teething discomfort by massaging the gums, which builds up the mouth muscle.
Its U-shape extends all the way back to those tricky teeth, ensuring relief for baby's entire mouth. This lightweight binky is easy for babies to manipulate on their own and is constructed of nontoxic food-grade silicone.
These baby fruit suckers are engineered to allow only the tiniest of food pieces to go through to prevent choking. It is a safe way to start introducing baby to solid food as your child goes through the teething phase. The design is made with textured surfaces and soft chewable silicone that ease teething discomfort.
It is easy to clean and storage, the material used makes our pacifier fruit holders stain resistant. You only have to wash with warm soap water, or boil to sterilize.

---
Pacifier for night time
With this type of pacifier, you'll stop lost pacifiers and you will eliminate the stress of searching.

It is easy to replace the pacifier, each plushie includes a pacifier that detaches from the animal for replacement and sanitation. The plushies pacifier holders have a flexible hug ring that attaches to a variety of baby's favorite pacifiers.
Plushies are compatible with most but not all pacifiers. They work best with pacifiers that have a button shield.
The design has the  perfect size for little hands and the texture for touch and exploration.