Movement, sound and bassinet toys
Rocking, movement, sound and bassinet toys
There are features in a bassinet that although are not essential makes a bassinet better and more convenient for a newborn.
There are bassinets with modules that offer calming or nature sounds, lights or movement. Besides, some of them also include bars with soft toys or plushes.
We explain you the reasons to choose whether your bassinet must have movement, sound or bassinet toys included in order to offer your little one the best place to rest.
Rocking bassinets
There are a lot of bassinets that feature rocking mode although most of them also feature a static mode with only changing leg positions.
The rocking motion or vibration that offer most of bassinets are found soothing to babies by their parents.
There are two kind of rocking bassinets: the first ones with a module that generate movement or vibration; the other kind of bassinets cause movement when baby moves.
Halo bassinet swivel sleeper includes a module that offers vibration. It also includes calming music, a nursing timer as well as a night light.
On the other hand, there is the Babybjorn cradle that causes a soohting vibration in response to babies' movement. It features a stable construction that can also be easily rock with parents' hands or feet apart from movement from own babie's movement.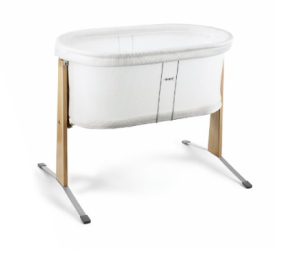 Toys and music
Though it not sounds good to provide entertainment to a baby in the place you want him to sleep, parents may be grateful if they have five minutes extra to sleep. That's why it is interesting to have a bassinet with complements that offer sounds or toys to look at.
The Graco Pack 'n Play playard bassinet is equipped with a toy bar that includes soft toys to entertain your little one. Furthermore, bassinet toys will help your baby be quiet more time.
There are other kind of bassinets that have complements that can be used to improve the bassinet. For example, the Cariboo classic bassinet has available an activity gym accessory to provide to the baby entertainment. The activity gym can be attached to the frame of the classic bassinet so it provides a safe place to hang toys to entertain your baby.
Moreover, the activity gym can be also used outside the bassinet. As a consequence, parents can put it on the floor so their baby can use it as a play gym.
Comparison chart
Use this comparison chart as a guide for choosing the best bassinet depending on your wishes or needs.
Product
Babybjorn cradle

Halo bassinet swivel sleeper
Graco Pack 'n Play playard bassinet

Pros
Full 360 degree mesh siding, chic, lightweight, comfortable, quality

Ideal post C-Section co-sleeper, swivel, vibration and music, l

ightweight, easy-to-use.

Portable, convenient for travel or home. Durable, safe and sturdy.

Cons
Expensive, vibration plus or minus depending on baby, not very easily portable on traveling
Expensive and not easily portable on traveling
 The changer, though convenient, is not an ideal height
Bassinet toys
✘
✘
☑
Movement
☑
☑
 ✘
Vibration
✘
☑
✘
Calming sounds
 ✘
 ☑
 ✘
Add to cart