Although bassinet storage is not a must, it is an important feature you have to take in account when buying a bassinet.
Most bassinets have a storage underneath, but there are some bassinets that have pockets on its sides. Besides, bassinet storage has usually different compartments to store all babies' essentials in the right order.
Both kind of storage are very useful for stashing a change of clothes, toys, wipes or diapers.
If you want to use a basket underneath, a flowing bed skirt can block access. In this case it is important to get a bassinet with a short skirt.
On the other hand, if you choose a bassinet with pockets on the side you'll not be able to store so many things than in a underneath storage.
Here you can find the best bassinets that include a basket storage underneath:
The summer infant bentwood bassinet includes a convenient and extra large storage basket beneath for baby's essentials such as clothes, diapers, soft toys and receiving blankets.

---
The summer infant classic comfort bassinet feature an extra-large storage basket designed to hold all baby's essentials.
Besides, the basket easily attaches to frame by securely snapping in place at four points.

---
The Kolcraft bassinet includes a large storage basket for baby's clothes, diapers, or other baby's necessities at the bottom.

---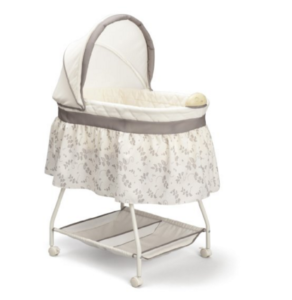 The Delta children sweet beginnings bassinet includes a large and two section storage basket under the bassinet that provides plenty of room for all baby's essentials.

---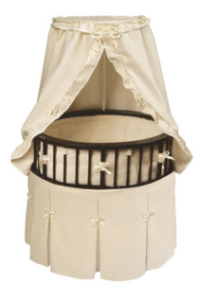 The badger basket elite oval bassinet includes a storage shelf beneath the bassinet.
The basket creates a storage area for feeding and changing necessities and toys.

---
The dream on me portable bassinet includes a sizeable basket for babies' essentials underneath.

---
The arm's reach co-sleeper has a convenient spacious storage basket with two sections underneath for additional items like diapers, wipes, burp cloths, etc.
The storage basket is made of poly-nylon.

Appart from this kind of bassinets, with a storage basket at the bottom. There are also bassinets that include pockets like the following ones: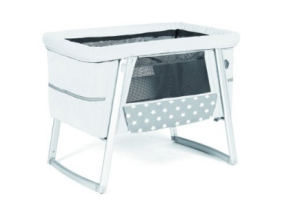 The babyhome air bassinet has a practical and easy to reach side pockets.

---
The graco pack 'n play bassinet include a convenient integrated pocket storage. You can use it to store books to read to your baby at night.