Delta Children Beginnings Bassinet
Delta children beginnings bassinet provides security to your baby and also features a lovely nature inspired print. It is a bassinett with a beautiful design.
This beginnings bassinet features a neutral leaf pattern, with elegant fabrics and a sleek profile. 
It includes an electronic music module with soothing music and a selection of pre-loaded lullabies that will help your baby to fall sleep. Besides, it also includes a nightlight that will help to calm your baby.
It is a lightweight bassinet and it has wheels to easy move it from room to room to have your baby always near. You should look the wheels for safety when your baby is inside.
Under the bassinet there is a large storage basket with two sections to put all baby's essential needs.
It also has an adjustable and removable stylish canopy. You can move up and down the canopy and you can also removed it completely.
The Delta children beginnings bassinet can be used for babies up to 15 pounds.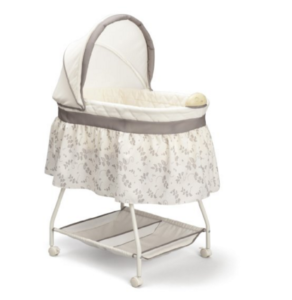 Included
Mattress pad
Fitted sheet
Calming nightlight
Vibration
Soothing music
Adjustable and removable canopy
Storage basket
Locking casters
Dimensions
Dimensions: 32″ (D) x 20″ (W) x 44″ (H)
Assembled dimensions: 35″ (D) x 21″ (W) x 45.5″ (H)
Mattress: 15.75″ (W) x 32″ (D)
Overall Product Weight: 10.5 lbs
Materials
Frame Material: Metal
Skirt and liner Material: Polyester
Mattress or Pad Material: Vinyl
Mattress or Pad Filling: Polyurethane
Product care
You can wipe clean with a damp cloth. You should clean it with water and mild detergent.
Steel frame and polyester fiber pad, fabric is machine washable. Basket, skirt and liner are also machine washable.
Assembly
The delta children beginnings bassinet is easy to assemble. In fact, you should assemble it in about an hour.
Rating
Co-sleep
Parents can easily move the bassinet with its wheels and they can put it next to their bed and use it as a co-sleeper. Mesh sides under the drapes allows you to look at your baby during the night.
However it is not a bassinet intended to use as a co-sleeper. Visit our special section of co-sleepers if you are interested in a co-sleeper.
Cleaning
It's easy to clean. The fabric parts are easy to remove for washing. The bassinet mattress is waterproof and comes with one sheet so the mattress won't get dirty. The fabric sides of the bassinet have snaps to snap on and off the metal frame.
Design
The height is nice and the fabric print and color is beautiful, it is like a muted brown on a cream background. It includes a nice storage underneath.
Safety
This bassinet provides to your baby a comfortable sleeping area with fitted sheet.
To provide safety you should lock wheels.
There are mesh sides underneath the draping that can be lifted up to look your baby and make sure that he is ok.
Portability
It has locking casters that allow moving the bassinet easily from room-to-room.
However, if you want to take it on trips it is not easy to pack it and put it in a car.