The babyhome air bassinet is a new model perfect for all kind of situation.  It is made from easily washable fabrics with the highest quality materials. It is perfect for parents in its convenience and perfect for newborns in its sleepability.
Includes a changing pad which attaches to the bassinet with a zipper easily.
Babyhome air bassinet has mesh sides to provide air circulation and to make it easy to see your baby without having to be near.
This original bassinet offers three leg positions:
Wheels: to move easily the bassinet from room to room
Rocker: to easy rock with hands or feet or even with own's children movement.
Stationary: bassinet can be locked to be sure that it is not going to move while the baby is sleeping.
On the side, the bassinet includes easy reachable pockets and it is available in 8 different colors.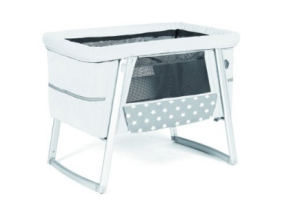 Included
Breathable Pad
Transport bag
Waterproof matress
Envelope sheet
Weight and dimensions
Weight: 13,2 lb
Length: 32 4/5 in
Width: 21 1/9 in
Height: 28 1/9 in
Materials
Waterproof mattress pad: 100% hypoallergenic cotton.
Fitted sheets: 100% hypoallergenic cotton
Product care
Easily removable and washable fabrics. Pad, envelope sheet and breathable pad are very easy to wash.
Assembly
Very easy to assemble, there is no needed tool to do it.
Our rating
It is a very light bassinet, it is portable and also very easy to assemble.  One of the coolest feature is the convertible legs, you can use the bassinet locked, moved it from room to room changing the legs to wheels or convert it to a rocking bassinet.
Co-sleep 
This bassinet is not intended to use as a co-sleeper, although you can try to attach to your bed and height can fit. It is perfect to sleep next to the baby but not to co-sleep.
Cleaning  

Really easy to clean. Fabrics are easily to removable, so it is not difficult to do it often.
Design 

Beautiful design. It is available in different colours, all you have to do is choose the one that fits better with your room.
Safety 

Mesh sides provides perfect air circulation. Mattress pad and envelope sheet are also safe.
Portabilty 

It can be easily moved with the legs in wheels position. It can be pack up to carry when travelling, it is lightweight and it is very easy to assemble.