Chicco Lullago Travel Crib: the best portable bassinet
The Chicco lullago travel crib is the best portable bassinet that can be used at any time and any where.
The snap-on metal legs make for fast and easy set-up and storage. This portable bassinet can be set up in seconds, and it can be disassembled and folded in under a minute. The bassinet can be also carried easily with the matching carry bag included.
All fabric is easily washable, fabrics can be easily removed and they are machine washable.
The bassinet has a large brushed mattress pad and mesh windows to create a comfortable space for baby. The lullago bassinet has dual side mesh panels to increase visibility and ventilation.
Feet of the bassinet are anti-slip to avoid bassinet from sliding.
This bassinet is available in different colors:
Included
Mattress pad
Carry bag to hold the compact and folded bassinet for easy travel and storage.
Dimensions
27 x 22 x 36 inches
Weight: 18 lbs
Materials
Mattress body, polyurethane foam and polyester fiber batting
Product care
Bassinet and mattress have fabric covers that are completely removable and washable. Do not clean the product with solvents, abrasive or harsh products. Please refer to the care label for instructions on cleaning the fabric parts of the bassinet.
Periodically wipe clean plastic parts with a soft damp cloth. Always dry the metal parts to prevent the formation of rust. Do not immerse the floor boards in water. Wipe clean with a damp cloth and mild detergent (do not use bleach).
Assembly
Sets up in seconds thanks to the convenient snap-on legs and one-piece top structure
Included carry bag holds the compact, folded bassinet for easy travel and storage.
Rating
Co-sleep
This bassinet is not made to co-sleep. It can be put next to parents bed but there are better options to consider if you want a co-sleeper. If what you want is a co-sleeper you may look for the chicco next2me although it is more expensive: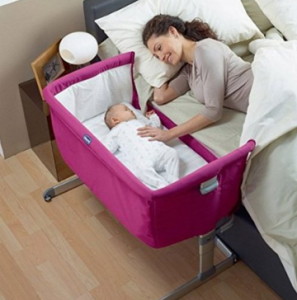 Cleaning  

Fabrics can be easily removed and they are also easily washable.
Design 

This sleek bassinet features an streamlined structure, which is light and stable

Safety
Soft fabrics and a comfortable mattress create a perfect environment for baby. Mesh sides provide perfect aeration for comfortable sleep.
While its design does not incorporate any frills or superlative detail to the quality and safety of its fabrics

Portability
We think that it is one of the best portable bassinet. It is a great choice for families who want something that stores compactly. You can easily broke down and put back together if you have to go for a short family getaway.