There are a lot of kind of bassinets and most of them include a canopy. Depending on where you are going to use the bassinet it is important to have a bassinet with canopy. The main reason is that canopies helps to block out the light so baby can sleep during the day. Besides, if you are going to put the bassinet in your room and you want to have the light on til late. In this situation, a canopy will help to ensure that baby will not wake up due to the annoying light.
Depending on where the bassinet is placed sunlight can disturb your baby. Using a bassinet with a canopy you can avoid this problem. Even on a sunny day your baby will be able have a nap.
Canopies can be retractable or removable and this is a very useful feature. It is important to be able to get the canopy out of the way easily if you want to change your baby inside the bassinet. In this case, canopy can disturb you so it will be useful to be able to remove it easily.
There are also frilly curtains or fabric canopies that drape over the bassinet. However, you have to take care with this kind of canopies because they can cause a strangulation hazard if your baby is able to reach it.
In general, canopies add security in a bassinet because babies feel more enclosed.
The summer infant classic comfort bassinet features an adjustable canopy. When assembled up, it blocks bright overhead lighting that could disrupt baby during nap time. With this bassinet with canopy your baby can rest peacefully all day.
The summer infant bentwood bassinet features an adjustable canopy with adorable embroidery detail.
The dream on me lacy portable 2 in 1 bassinet features a full canopy. Appart from avoiding bright lights while your baby is sleeping canopy can be also used as a mosquito net.
This Kolcraft cuddle 'n care 2 in 1 bassinet includes a canopy that gives your baby restful sleep by providing pleasant shade. Besides, the canopy includes a mobile with three hanging plush toys that provide visual stimulation and keep your baby entertained.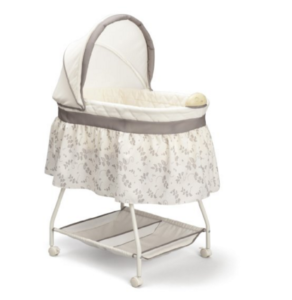 The Delta children sweet beginnings bassinet includes an adjustable canopy that moves up and down so it lets your baby sleep without being annoyed by bright light. Moreover, the canopy can be completely removed.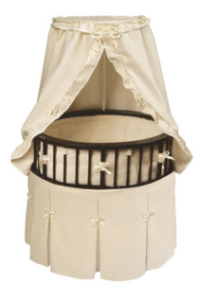 The badger basket elite oval bassinet features a graceful canopy that shades the interior to keep out harsh light while your baby is snoozing. Besides, this beautiful ruffled drape canopy is height adjustable.
Bassinet with canopy comparison chart
You can see in the following chart a resume of bassinets with different kind of canopies:
| Product | Canopy features |
| --- | --- |
| Summer Infant Classic Comfort Wood Bassinet | adjustable |
| Summer Infant Bentwood Bassinet with Motion | adjustable |
| Dream On Me Lacy Portable 2 in 1 Bassinet | mobile with hanging toys |
| Kolcraft Cuddle 'N Care 2-in-1 Bassinet | mobile with hanging toys |
| Delta Children Sweet Beginnings Bassinet | adjustable / removable |
| Badger Basket Elite Oval Bassinet | height adjustable |